Global Premiere for new Sergei Magnitsky film at World Parliaments
November 11, 2010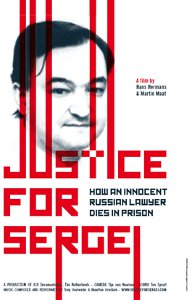 16 November 2010
Unprecedented Worldwide Political and Cultural Event
to Protest the Impunity of Russian Officials Who Tortured and Murdered Anti-Corruption Lawyer Sergei Magnitsky
November 16th will mark the one-year anniversary of the murder in Russian police custody of Sergei Magnitsky, a 37-year old Russian anti-corruption lawyer.
To commemorate this anniversary, the global premiere of "Justice for Sergei," a unique documentary on Magnitsky's life and tragic death, will take place at a number of parliaments around the world, including the European Parliament, United Kingdom, Germany, Estonia, Canada and the United States.
In connection with this unprecedented film launch at parliaments around the world, leading statesmen, politicians, scholars, human rights activists, journalists, lawyers and businessmen will join together for the first time to protest the continuing impunity of Russian state officials who cruelly tortured and killed Magnitsky in custody.
Sergei Magnitsky, an outside lawyer for the Hermitage Fund, discovered that Russian police were involved in misappropriating his client's investment companies and later embezzling $230 million of public funds through the largest tax refund fraud in Russian history. Magnitsky testified against the state officials involved, and in retaliation they arrested him, detained him for 12 months without trial and tortured him in an attempt to force him to retract his testimony. Despite the physical and psychological torture, Magnitsky refused to change his testimony. He died on 16 November 2009 at the age of 37, leaving a mother, wife and two children. The new documentary reveals previously unreleased details of this shocking human tragedy.
Commentators at each parliamentary screening will discuss the legislative initiatives underway in the US, Canada and European Union countries to deny visas and freeze the assets of the Russian officials involved in the corruption Magnitsky exposed and his subsequent torture and murder in custody.
This will be the first time a worldwide protest has been organized against the impunity of Russian state officials.
See documentary trailer here:
http://www.youtube.com/watch?v=2aj2NLFL-lE
See legislation in the U.S. Congress, "The Justice for Sergei Magnitsky Act of 2010":
http://thomas.loc.gov/cgi-bin/query/z?c111:S.3881:
Worldwide Parliamentary Screenings & Commentators
16 November 2010
(all times listed are local)
US Congress Participants:
Location: CVC Auditorium, Capitol Building, Washington DC
Local Time: 3:30pm
Canadian Parliament
Location: Room 200, West Block, Canadian Parliament, Ottawa
Time: 5:00pm
UK Parliament Participants:
Location: Grand Committee Room, Westminster Hall, House of Commons, London
Local Time: 6:30pm
German Bundestag Participants:
Location: FDP 3rd floor (Fraktionsebene) Reichstag, Platz der Republik 1, 11011 Berlin
Local Time: 10:00am
Estonian Riigikogu Participants:
Location: Room 333, Estonia Riigikogu, Lossi plats 1a, Tallinn
Local Time: 12:00 noon
European Parliament Participants:
Location: Yehudi Menuhin Room, First Floor, PHS Building, Brussels
Local Time: 1:00pm
Comments